Skip Navigation
Website Accessibility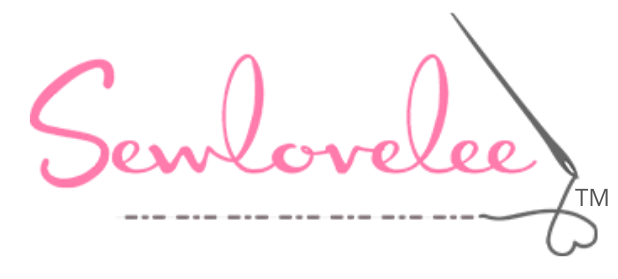 Sewlovelee Community Customer Quilt Show
Almost Here!
People are a-talkin' about the Community Customer Quilt Show October 10-14. What you need to know: Drop offs are this week, Oct. 3-7. Learn how to enter one or more quilts!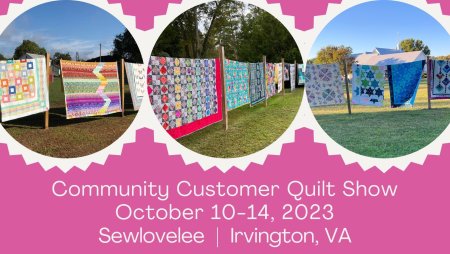 The quilt show will take place outside in the Quilt Garden weather permitting. Attendees vote on their fave quilt and every vote is entered to win one of nine Sewlovelee-made quilts being given away during the week. It's a great way to introduce non-quilty friends to this art form and spend some time eating and shopping in Irvington.
---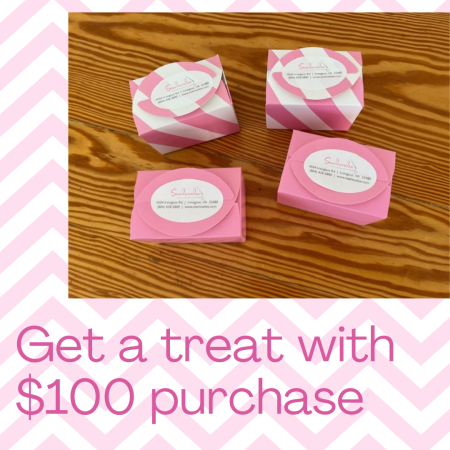 Be sure to come into the shop; virtually everything is 9% off. Remember to bring your Sewlovelee savings bag to receive the additional discount. And when you spend $100, you'll receive a special treat.
---
Bernina deals in October
If you love machine embroidery, read on. Through the last day of 2023, Bernina is offering exceptional sales on three embroidery-only machines: bernette 70 DECO (sale $999/regular $2,269), Bernina 500E (sale $1,999/regular $4,899), and Bernina 700E (sale $2,999/regular $7,499). Give a gift to yourself or buy one for a holiday, birthday, or other significant moment gift!
---
On Saturday, Oct. 14 ONLY, get super duper 0% financing for 72 months on any machine $4,000+. Learn more in the shop or call (804) 438-5800.
---
Halloween help needed
Sewlovelee is again donating 100 trick or treat bags to the Irvington Halloween event and we need your help! We'll give you one FQ and a free pattern to get started. Want to make more? Use your stash and you'll receive a free FQ for every additional bag you make! And candy. We'll give you candy.
---
Longarm quilting updates
Christmas is always here before we know it. While there is no Sewlovelee deadline for quilting, the normal turnaround time is 2-4 weeks. That will likely change as we get closer to Dec. 25. If you need your quilt back within a two-week timeframe, there is a $50 rush fee. The price for longarming has gone up; it's now $.025/sq inch. (We've not raised prices since 2014.)
New fabric, patterns, bundles, and kits
As always, there is something for everyone in new arrivals, new kits, and new bundles. And while you're looking for you, shop for holiday gifts (Secret Santa, stockings, hostess gifts, and more!).
Juniper is a must-have collection. This Art Gallery Fabrics line is described this way:
Experience the rustic charm of wintertide with Juniper by Sharon Holland. This exquisite collection perfectly encapsulates the natural beauty of piney greens, cinnamon spice, and cozy charcoal and white hues. Cherish the season's simple pleasures and savor the serene allure of winter.
Juniper is on the shelves now! Head over to the shop before the rain and wind start so you can make a new seasonal runner, tote bag, quilt, jacket, place mats, pot holders, wall hanging. . . um, you get the picture
---
October 31 is rapidly approaching and we've got plenty of boo-worthy prints and patterns for the Halloween of your nightmares. New are Halloween Stripe and Trick or Treat Words.
---
Blenders are a must-have and we've got the design Waved in multitudes of colors and even some 118" wide: Waved Baby Blue, Waved Purple, Waved Powder, Waved Violet, Waved Periwinkle, Waved Coral, Waved Grape, 118" Waved Peach, 118" Waved Thistle, and 118" Waved Ballet.
---
Other new blenders: Water Bubbles Tan, Rainbow Dust Terrazzo Cream, and Sparkles Purple.
---
New nautical fabric: Shell Turquoise Pale and Shell Blue/Green.
---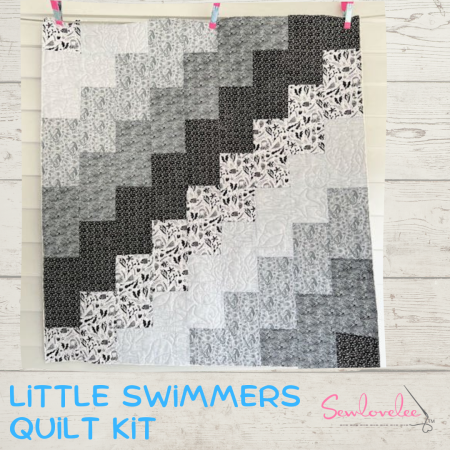 The new Little Swimmers Quilt Kit is the perfect combo of nautical prints, a straightforward pattern, and easy and quick to finish baby quilt.
---
New Christmas: Candy Stripes Green/Red, Mistletoe Wreaths Cream, Snowflakes Red/Green, Polka Dot Trees, Christmas Plaid Red, and Fair Isle Sweater Print Red.
---
---
---
---
New bundles include Tilda Chambray Fat Quarter Bundle (11), Peachy Meadow 3 Yard Bundle, and Holiday Cardinals 3 Yard Bundle.
---
This and that: Dots Pink is a must-have-in-your-stash. 118" Sateen Natural is silky smooth and the perfect quilt back!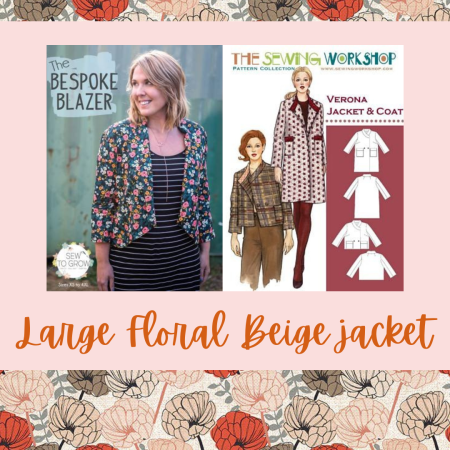 Large Floral Beige is a stunning 54" canvas print that is waiting to be made into a fab fall jacket (Bespoke Blazer or Verona Jacket) or a Professional Tote.
---
We've made up the new Dawn on the Prairie FQ bundle (12) into a new pattern.
Goodbye. . . Get 'em before they are gone
It's time to say goodbye to the last ofs. . . And we have quite the selection to choose from. There are bundles, patterns, yardage, and more.
The All American We the People Panel ($5) makes up into a high impact quilt when paired with Multi Declaration of Independence Patriotic, Sweet Land of Liberty Navy, and Earth Views Moss.
---
We've only a few Halloween bundles and kits in stock, so hurry to make them yours: Fangtastic 3 Yard Bundle, Spookier Charm Pink Pumpkin Quilt Kit, Owl 3 Yard Bundle, Liquid Magic 3 Yard Bundle, and Spooky Butterflies 3 Yard Bundle.
---
Any of these bundles would make up into fab quilts for family/friends: Roller Skating Star 3 Yard Bundle, Fast 4th of July Quilt Kit, Oyster Bed Tidepools Kit, Midnight pathway in the Sky Kit, and Dinosaur 3 Yard Bundle.
---
We're down to the last 10 Sewlovelee Savings Tote Bags! They save you 10% today, tomorrow, next year, forever as long as you bring it to Sewlovelee when you shop! Buy one now for $10.
---
Upcoming Events
Community Sew-cials